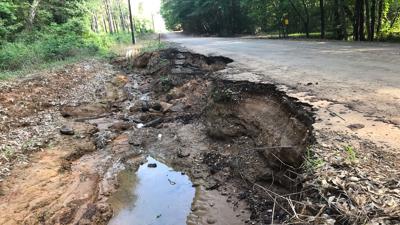 On a smaller scale it may look like a majestic wall of the Grand Canyon, but it's actually what used to be the side of a road in DeSoto Parish. In the last month this section of Screamerville Road has crumbled away, creating dangerous driving conditions.
"Eventually it's going to cause a bad accident and a truck is going to roll over into the ditch," a neighbor along Screamerville Road told KTBS earlier this month.
Like many communities in the ArkLaTex, every day the small town of Grand Cane sees a heavy presence of oil and gas trucks and on a road like Screamerville -- big trucks that are having an equally big impact.
Austin Patton, who lives on Screamerville Road, told us he's at the end of the road when it comes to repairing the edge of his.
"What this is doing is the trailers on these trucks are caving these roads in because they're not maintaining the ditches. The ditches went from being about a foot and a half deep to now four or five foot deep and the asphalt has just crumbled away into the ditches," he said.
Dealing with truck traffic is something that's become quite common over the last decade.
The boom for natural gas drilling began in 2008 in DeSoto Parish. More than 10,000 feet below the ground there lies the Haynesville Shale. In the past 10 years energy producers in the natural gas industry have seen it's popularity rise and fall, but just in the last year the industry has made a comeback.
Last year marked the highest production from the shale since 2012, and so far 2019 is set to possibly exceed that. The increased demand for natural gas in overseas markets is also contributing to the Haynesville Shale's renewed popularity because of its proximity to the LNG facilities on the South Louisiana coast.
"You're definitely seeing a resurgence, most of that coming from North Louisiana. You have the lower Cotton Valley play up there and also the Haynesville because operators understand that play very well. They know where to go, how deep to drill, and where to run your laterals," said Patrick Courreges, communications director with the Louisiana Department of Natural Resources.
Since the first gas well was drilled here, the state of Louisiana and DeSoto Parish have looked into ways to cash in.
At the height of the first boom after the state of Louisiana originally levied a severance tax on natural gas owners at a rate of $0.111 per mcf (cubic feet) produced.
In 2015, Louisiana received $190 million from gas severance taxes across the state, up from $148 million in 2014. In 2014, DeSoto Parish received $624,592 in royalties, rents, and bonuses which accounted for 2 percent of DeSoto Parish's total revenue.
That revenue has still not been enough when it comes to solely funding all of these road projects. So now the parish is looking into something else.
"We have what we call inmate crews that are run by deputies that do temporary repairs. We have another crew that do permanent repairs on potholes, but I'd also like to point out that a lot of this work is done in conjunction with the oil and gas industry," said Steve Brown, DeSoto Parish Police Jury administrator.
One of the new ways they're looking into fixing the roads here in DeSoto Parish is through an impact fee. They're taking into account how many of these trucks impact the roads, then they may tax the company based on that usage.
Brown said his office regularly receives checks from these oil and gas companies to pay for the cost of materials, but the dollar amount isn't a set amount. Brown confirmed the parish has already hired a consultant to analyze road usage by these heavy trucks and what would be a fair amount for the companies to pay.
"Because there are studies around the country that clearly indicate under normal conditions, the amount of damage that's done to the roads when you have this intense activity will exceed or often exceed the available dollars, whether that's state DOTD dollars or local dollars like in our case," Brown added.
The DeSoto Parish Police Jury should get answers as to how many trucks are rolling on these roads sometime in the next 30 days. Based on that they'll then discuss how much each company should pay. For many of the neighbors who travel these roads every day it's a step or drive in the right direction.