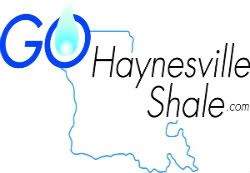 AROUND THE PLAY
(view all)
Texas Counties
Louisiana Parishes
Arkansas Shale
14,376 Shalers!
Advertising
Encana expanding in Desoto Parish?
"I heard today that Encana, which already has a small satellite office on Misslebase Rd, is expanding that office and moving more rigs in to work the northern part of Desoto. Has anyone else heard this?"
Southwestern Energy
"Landman contacted me with a lease representing SW Energy. My land is in the T.R. Goodwin and James Rowe surveys around Patroon. He offered 700/ac and 1/5 royalty. Anyone else have any contact for SWE and a comparable offer? "
After the Court Ruling: 400 acres have been released by a company.
"I would like to know who to contact on this. The company decided to released the lease acreage. The court ruling in Mansfield helped much."
Question About Royalty Payments
- "We just received our first royalty checks and it just does not add up."
Petrohawk to Drop 1-2 Rigs
" Petrohawk announces plan to drop 1-2 rigs soon, considers deeper cuts if gas prices remain low in 2011-12."
Seismic Activity Concerns Me in Sabine Parish
"Does anyone know what state or local department in Louisiana regulates seismic activity and issues permits for seismic activity? I know several people with issues, but have not found who regulates. I know wildlife & fisheries do this for state owned property, but what about privately owned property?"
EnCana Spuds 1st Haynesville Shale Well South of Hwy 784
"EnCana has spudded the first Haynesville Shale well south of Hwy 784 (Hickory Grove Rd) in T12N-R9W. This well will provide key information and should further extend both the Haynesville Shale and Mid-Bossier Shale plays to the south."
Upcoming Event
Development Issues in the Major Shale Plays
Click here to view event.
Best,
Keith Mauck "Haynesville"
Site Publisher