Adubu is busy working on other matters, so I'll step in to pinch hit...
From EIA:
"Working gas in storage was 1,686 Bcf as of Friday, February 7, 2014, according to EIA estimates. This represents a net decline of 237 Bcf from the previous week. Stocks were 863 Bcf less than last year at this time and 631 Bcf below the 5-year average of 2,317 Bcf. In the East Region, stocks were 315 Bcf below the 5-year average following net withdrawals of 106 Bcf. Stocks in the Producing Region were 232 Bcf below the 5-year average of 845 Bcf after a net withdrawal of 89 Bcf. Stocks in the West Region were 84 Bcf below the 5-year average after a net drawdown of 42 Bcf. At 1,686 Bcf, total working gas is below the 5-year historical range."
working gas is below the 5-year historical range.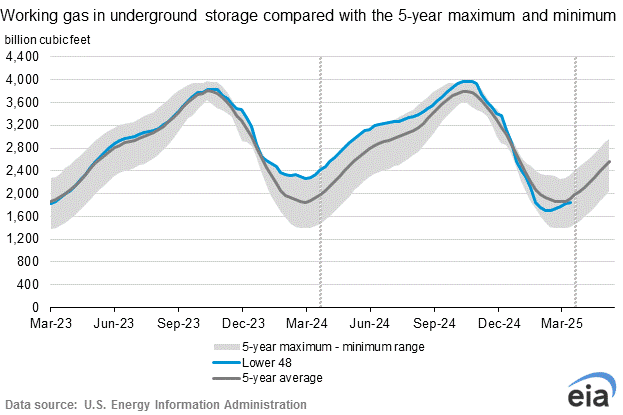 The U.S. Energy Information Administration reported that supplies of natural gas dropped 237 billion cubic feet for the week ended Feb. 7. The drop was a bit higher than market expectations as analysts surveyed by Platts forecast a decline of between 228 billion cubic feet and 232 billion cubic feet. [Emphasis added.]
The decline compares with last year's withdrawal of 152 billion cubic feet, as well as the five-year average drawdown of 162 billion cubic feet, according to EIA data, and total supplies in storage were at 1.686 trillion cubic feet, the lowest level of supply for a first week of February since 2004. [Emphasis added.]
Natural-gas prices Thursday also got a sizable boost in the wake of reports that part of a natural-gas pipeline may have been shutdown following an explosion.
"An explosion on a major pipeline from the Gulf Coast to the Northeast could send spot prices soaring," said Phil Flynn, senior market analyst at Price Futures Group.
NiSource Inc. reported early Thursday a rupture in a pipeline in Adair County, Kent. In a Thursday afternoon update, it said that overnight, personnel shut a main line valve, stopped the flow of natural gas to the rupture area and isolated the damaged portion of the pipeline. A Reuters report was a bit more straight forward, saying that NiSource shut part of the Columbia Gulf Transmission interstate natural-gas pipeline following an explosion and fire."
Upshot: We are below post-Shale storage volumes, and over 25% offset from the post-Shale 5-year average.  Hooray for Natural Gas!  Unfortunately, someone is liable to open the spigots.  Long-range weather predictions indicate continued cold in the Midwest, slightly milder in intensity to the Northeast, for the next 2 - 4 weeks.  Where will we land at the end of the drawdown???
{Publication credit given to EIA.gov and Marketwatch.com - links to their stories conserved}